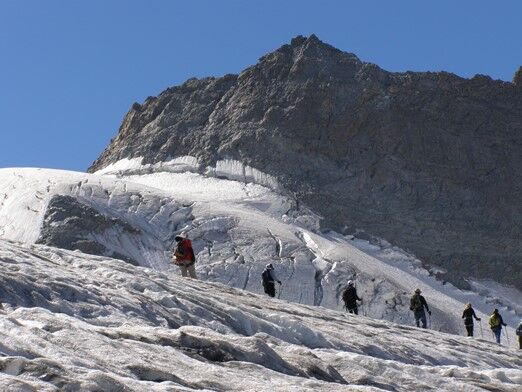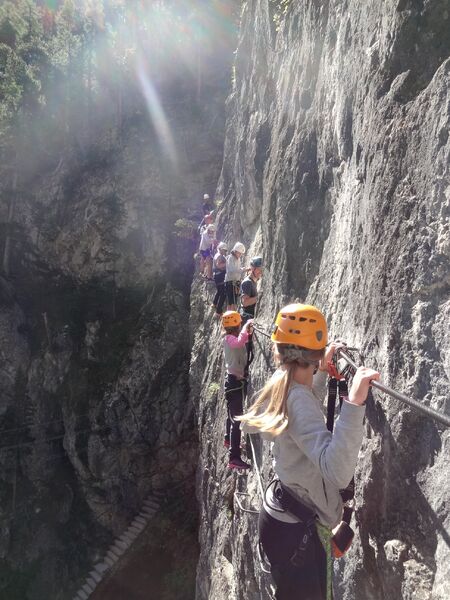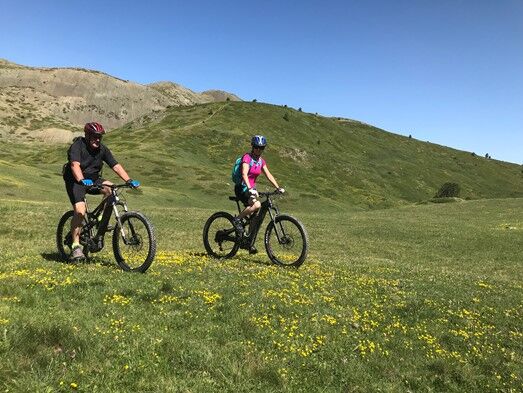 At the Guide's Chalet
Montgenèvre
At the Chalet du Guide, partner of your emotions!
Stop looking for your way, we'll roll it out under your feet!
Philippe and Jérémy offer to guide you around Montgenèvre, as a family, on suitable routes, to help you discover the riches of this pass by immersing yourself in its majestic environment.
You can try your hand at Via-Ferrata, climbing, hiking on a nearby glacier at an altitude of more than 3000 meters, but also observe the fauna and flora, learn more about its heritage, its history, while enjoying its clean air, calm and tranquility, in the midst of its grandiose landscapes, in France or Italy.
Everything is possible on foot, by mountain bike or mountain bikeae, in a group or as a private service.
WALK
- "Meet the marmots"
A small excursion in the valley of Baïsses, remained very authentic and wild, allows us to meet the marmots, to discover them and to observe them a little more closely without disturbing them thanks to a spotting scope and binoculars. . You will then learn to spot them more easily and they will no longer hold any secrets for you!
It is not uncommon to observe other animals during this outing, such as chamois, raptors ...
Around 3h30, from 6 years old. Scheduled for Wednesday morning.
- "In the footsteps of the Romans"
This rather atypical walk along the water takes place in the Gorges de St Gervais in Italy. Starting from Clavière, the path descends to the bottom of the gorges to go up them following its stream to the waterfall, thanks to the various facilities, all in a refreshing setting!
Around 3 hours, from 8 years old. Vehicle necessary to get to the start (3 km with Italian border crossing). Scheduled for Tuesday afternoon.
- "Discovery of the Glaciers"
After a cable car climb up to an altitude of 3200 meters, an adapted route will allow you to walk in the footsteps of mountaineers in a breathtaking setting! Rub shoulders with the summits at an altitude of more than 4000m, approach crevasses and seracs, in complete safety thanks to the accompaniment of an experienced guide. Total change of scenery guaranteed !! Scheduled for Wednesday.
- " Via ferrata "
Discipline on horseback between tree climbing and climbing, you move on the natural walls thanks to the facilities provided to facilitate your task and make you safer, as the "alpini" (Italian equivalent of alpine hunters) did in their time. ). Go in the company of a guide for even more safety. Scheduled for Tuesday morning.
BY BIKE
- "Electrically assisted mountain bike"
Thanks to this soft mobility, we can move more quickly and easily, to discover distant horizons in privileged contact with nature. Unforgettable moments with family (children from 1.45 m), with friends or in a group… Let yourself be guided on the best routes around Montgenèvre.
It is necessary to know how to ride a bike and know how to brake downhill on a wide and stony path. Bike rental (with helmet) is included in the price.
Scheduled for Tuesday morning, walk to lago nero in Italy to discover this easily accessible lake but which is no less magnificent!
Scheduled for Wednesday afternoon, walk to the fortifications of Gondrans.
- "Mountain bike Aux Alberts"
In group lessons to learn how to handle the bike while having fun and in safety, to improve and gain confidence, all in a small group or simply for a family bike ride to discover this magnificent valley guided by the advice of a monitor.
1h30 for children from 6 to 10 years old and 2h30 for children from 11 years old. Bicycles are not provided.
Rates
Half-day hike: from 15 €
Via Ferrata Clavière: from 29 €
Via Ferrata: from 45 €
Discovery of the Glaciers: from 49 €
VTTAE: from 55 €
Mountain bike 1h30: from 15 €
MTB 2h30: from 25 €.
Dates
From 06/26 to 08/29, daily.
Obelisk district
05100 Montgenèvre
Spoken languages
English
French
Italian
Dutch
Compulsory equipment: closed shoes (preferably high tops), with good soles, sun protection (hats, glasses, cream), bag with bottom of the bag (water, food like "snack, cereal bars…", fleece or equivalent, raincoat, medicines if necessary…)
The outings can be modified, adapted, postponed during the week or canceled depending on the weather conditions, the number of participants, the level of participants, etc.
Updated on 07/15/2021 - Tourist Office of Montgenèvre - Suggest a modification